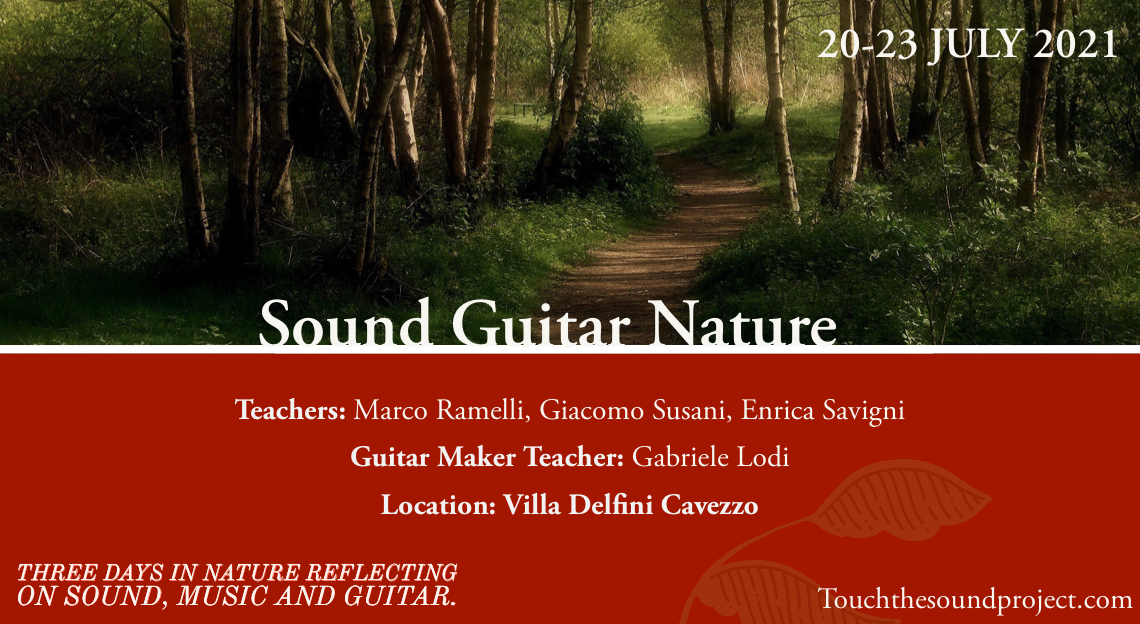 Sound, Guitar and Nature
20-23 July 2021
Teachers:  Marco Ramelli, Giacomo Susani, Enrica Savigni
Guitar Maker Teacher: Gabriele Lodi
Location: Villa Delfini, Cavezzo (Italy)
Three days in nature – reflecting on sound, music and guitar.
Surrounded by a beautiful centuries-old park, Villa Delfini is a lovely villa located in Cavezzo, Modena. The nature and tranquillity of this place are ideal for focusing on sound, art and experience three days of total devotion to music and nature.
Sound, Guitar and Nature is an event where talented musicians can share an experience and develop ideas and insight about music and sound.
The meeting aims to explore the theme of sound production and creativity in an atmosphere of sharing and dialogue between the participants. A laboratory where it will be possible to reflect on our relationship with the instrument, the music and nature.
The course will include masterclasses, lectures about guitar functioning, sound production and composition for guitar.
There will also be a historical guitar exhibition, where participants can try and directly experience the sound of unique instruments.
#oldinstruments Come to touch and try original instruments of some of the most renowned guitar makers of the nineteenth and twentieth centuries.
#NewMusic Exchange ideas on creative approaches to composition and transcription for the guitar.
#aCupOfTea Insights on both repertoire and guitar making.
#masterclasses Lessons with the teachers.
COSTS
Course fee as ACTIVE student: 100 € + 10 € inscription
Course fee as PASSIVE student: 15 €
For registration: info@touchthesoundproject.com
Fee Accomodation: 35 € (per night)