Past events:
15/17 June 2018 (GuitarMind, Carpi)
Masterclass with Marco Ramelli and Petra Poláčkova
15/16 Dec 2018 (GuitarMind, Carpi)
TTS Winter Edition: 19th century repertoire. Duo Maccari-Pugliese, Enrica Savigni
24/26 June 2019 (GuitarMind, Carpi, Italy)
TTS Contemporary: Giacomo Susani, Marco De Biasi
22/25 Sept 2019 TTS in Nature (Skryje, Prague – Rep. Ceca)
Luthiers meet Guitar players. WalterVerreydt, PavelSteidl, PetrSaidl, MarcoRamelli
Events in collaborations
– Pablo Marquez, Solo Duo
Corde D'autunno Milano 2018
– Andrea De Vitis
Corde D'autunno Milano 2018
– Sean Shibe
Corde D'autunno Milano 2019
– Antigoni Goni, Sofia Pyrounaki, Sasha Savaloni
TU Dublin Symposium 2019
-Paul Galbraith, Fabio Zanon, Laura Snowden
Festival Corde d'Autunno 2019
PERIODS: 4 days in June – 3 days in December
The TouchTheSound Masterclass offers a range of possibilities:
#LESSONS with internationally renowned musicians
#A CUP OF TEA conferences with a colloquial and informal character of information and dialogue, held by experts, musicologists and scholars of the sector
#VIDEO RECORDING the unique possibility of recording a professional video using historical instruments made available by GuitarMind
#CONCERTS of musicians involved in the project and the master classes, in addition to the performance in the final concert of the students on the instruments seen and observed during the three days
#HISTORICAL GUITARS a wide selection of original instruments of the nineteenth and early twentieth centuries, made available by collectors who collaborate with the project, from GuitarMind and luthier Gabriele Lodi
The two events have specific orientations:
The June masterclass is dedicated to the violin making of the 20th century and its repertoire;
The December masterclass focuses on ancient instruments and repertoire, from the Renaissance up to the nineteenth century.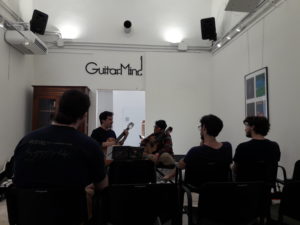 ITA vers.
PERIODI: 4 giorni in Giugno – 3 giorni in Dicembre
Le Masterclass TouchTheSound offrono un ventaglio di possibilità:
#LEZIONI con musicisti di fama internazionale
#A CUP OF TEA conferenze dal carattere colloquiale ed informale di informazione e dialogo, tenute da esperti, musicologi e studiosi del settore
#REGISTRAZIONI VIDEO la possibilità unica di registrare un video professionale utilizzando strumenti storici messi a disposizione dal GuitarMind
#CONCERTI di musicisti coinvolti nel progetto e nelle masterclass, oltre all'esibizione nel concerto finale degli allievi  sugli strumenti visti ed osservati nel corso della tre giorni
#CHITARRE STORICHE una vasta selezione di strumenti originali del XIX secolo e del primo '900, messe a disposizione da collezionisti che collaborano con il progetto, dal GuitarMind e dal liutaio Gabriele Lodi
I due appuntamenti hanno specifici orientamenti:
La masterclass di Giugno è dedicato alla liuteria del '900 e al relativo repertorio;
La masterclass di Dicembre si concentra sugli strumenti e il repertorio antichi, dal rinascimento fino ad arrivare all'ottocento.