An annual appointment dedicates to a collector and his collection.
Thanks to the multi-year collaboration between Liuteria Lodi and many collectors and connoisseurs of plucked instruments, we can offer important events dedicated to various kind of instruments.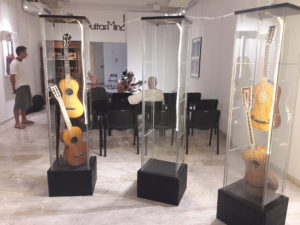 TouchTheSound Collection is an occasion to discover the personality of some collectors, their interests and their passion.
The event will include an exhibition, a conference and a meeting with the collector and it will end with a concert where it will be possible to listen to some instruments chosen from the collection, which will be played by the expert hands of artists.
ITA vers.
Un appuntamento all'anno che vede da protagonisti un collezionista con i suoi strumenti storici.
Grazie alla collaborazione pluriennale tra la Liuteria Lodi e moltissimi appassionati, collezionisti e intenditori di strumenti a pizzico, si possono contare diverse personalità e svariati strumenti d'interesse.
TouchTheSound Collection, una giornata di presentazione ed approfondimento di una personalità e del suo interesse, incuriositi da questo mondo fatto di ricerche, scoperte e storie riguardanti questa passione.
Al termine della giornata, si potrà assistere ad un concerto in cui si ascolteranno alcuni strumenti scelti dalla collezione, i quali verranno suonati da mani esperte di artisti chiamati ad hoc.